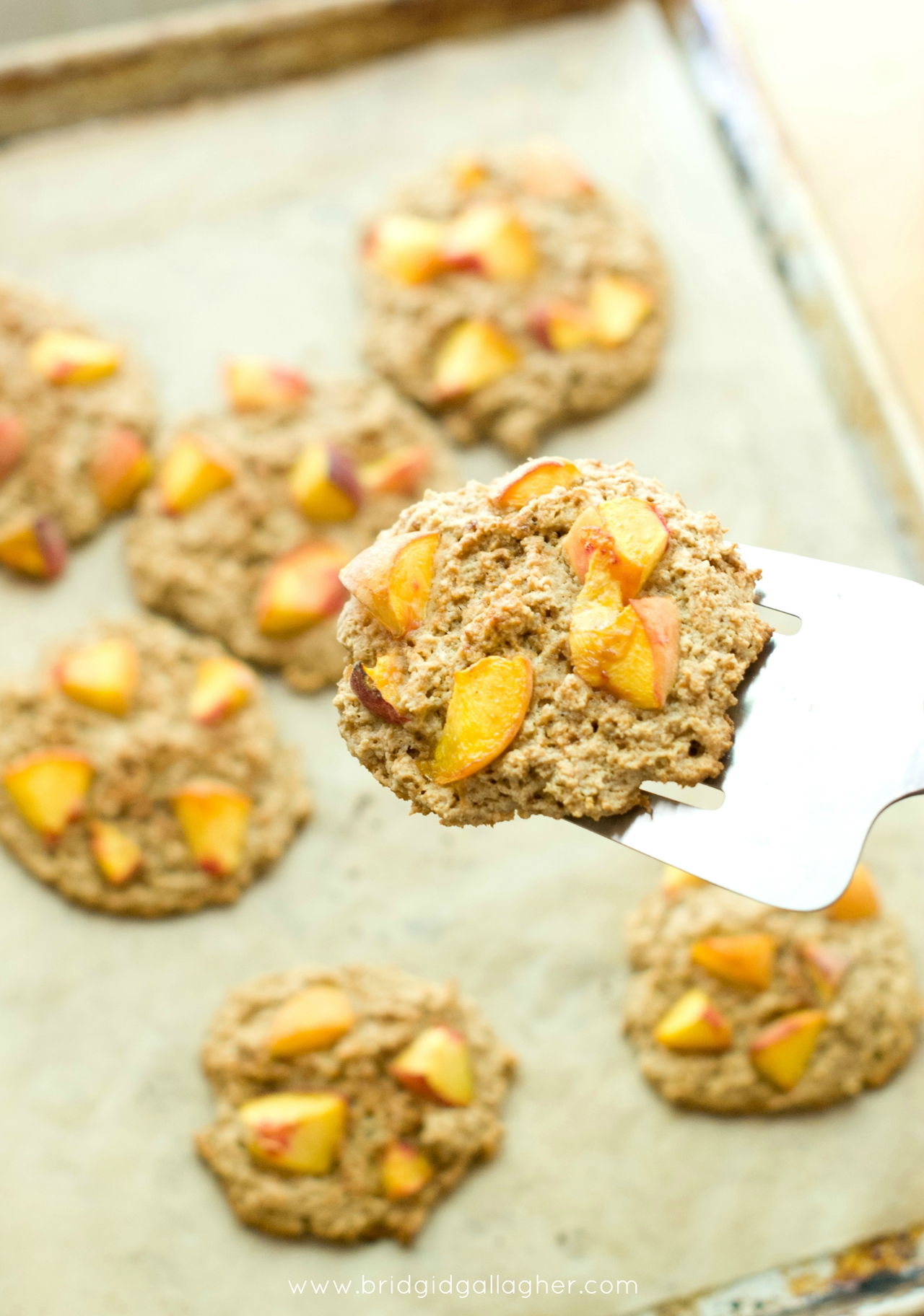 These scones were inspired by Isa Moskowitz's scone recipe in her Isa Does It cookbook. I loved the recipe, but I didn't love the way I felt after eating whole wheat flour.
So! I made it my mission to try out a variety of scone recipes to find one that was delicious and gluten-free.
This recipe is the result.
The only problem with these scones is that they are TOO good. And I'm not even a little sorry. :)
They are made with wholesome ingredients (like oat flour, juicy peaches, coconut oil, and fresh ginger). They are also drop scones, and are therefore really, really easy to make. And they are perfect. Rich and crumbly, with bright bursts of peach juice, and a touch of ginger. (Are you getting hungry yet?) ;)
If you can't get your hands on fresh peaches, then you could try your favorite berry. I made them with blueberries and that was insanely good! But peaches … These scones are just perfect with peaches.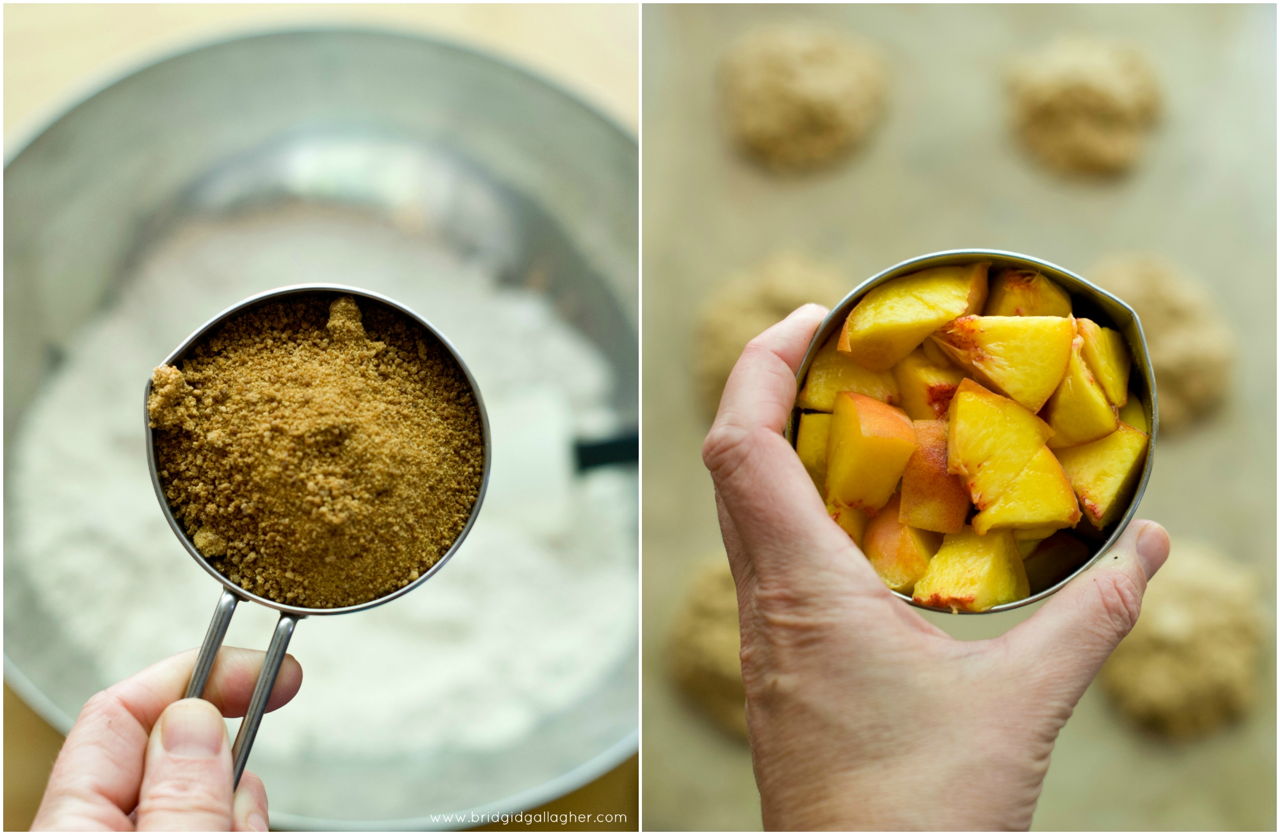 Coconut oil gives them that rich and buttery texture, and it's really easy to work with. You can use either melted coconut oil or chilled coconut oil, but I liked the texture best when I used chilled coconut oil. Since the room temperature is hot enough to melt coconut oil right now, I put the amount I needed into a glass tupperware, froze it for 15 minutes, then cubed it. Worked like a charm!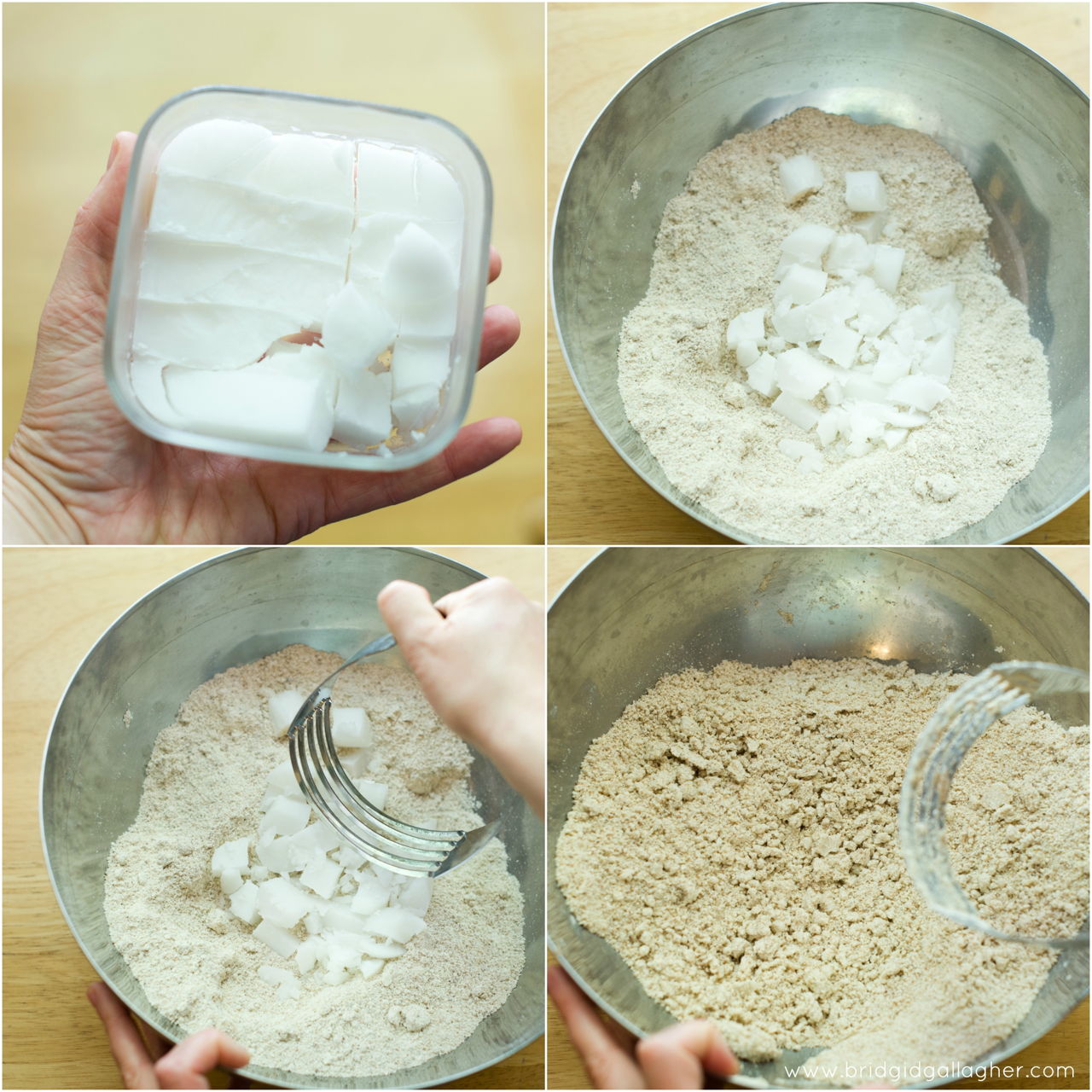 I am so, so excited for you to try these.
Perhaps some Saturday morning scones with your coffee?
Or an scone with tea Sunday afternoon?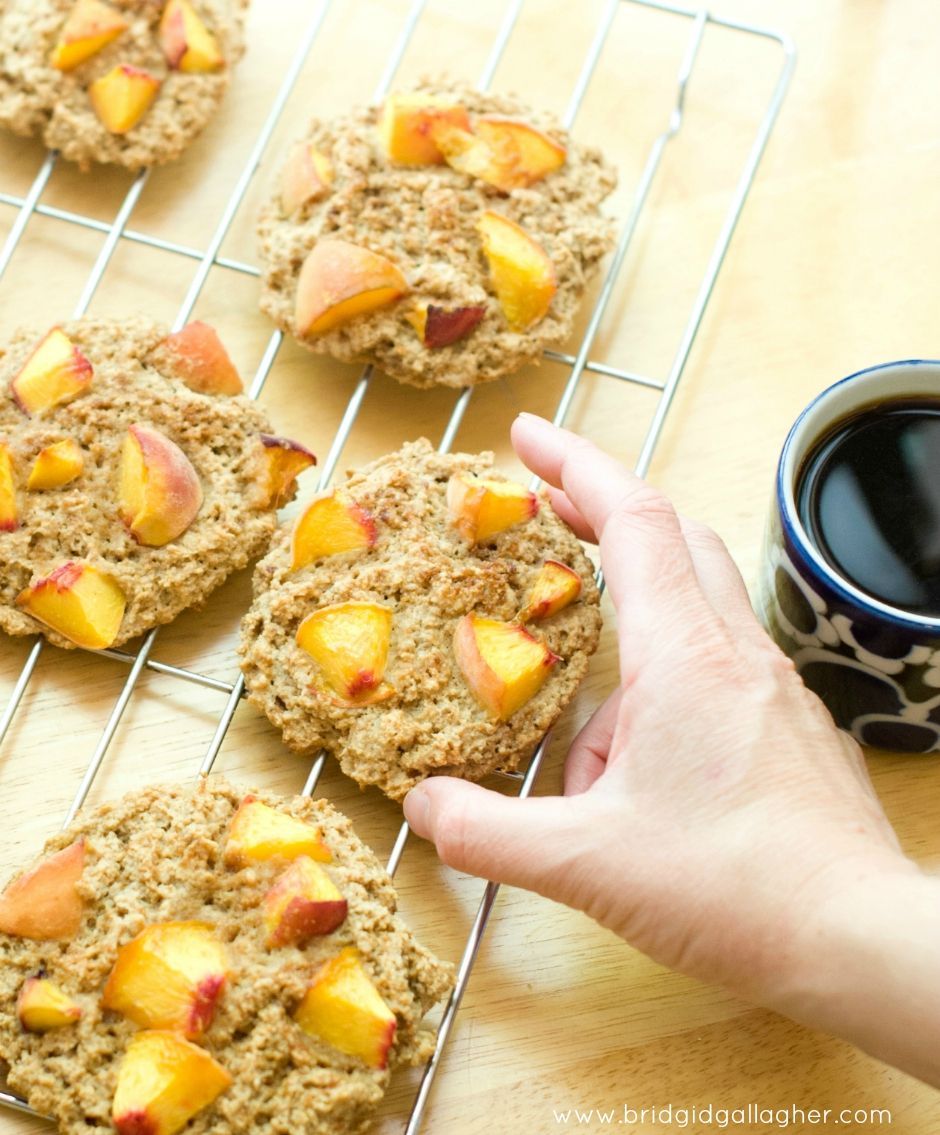 Sounds just about right to me…
Makes about 14, 1/4 cup-sized scones
Ingredients
2/3 cup (166 grams) unsweetened applesauce
3/4 cup almond milk (or milk of your choice)
1 Tbsp vanilla extract
1" fresh ginger, grated
3 cups (333 grams) oat flour (how to make oat flour)
2 Tbsp baking powder
1/2 cup (72 grams) coconut palm sugar (or granulated sugar of your choice), plus a little extra for dusting the scones
1/2 tsp salt
1/2 cup coconut oil, chilled
2 cups (~300 grams) fresh peaches, chopped
Directions
First, make sure your coconut oil is chilled. If your coconut oil is liquid at room temperature, pour it into a container and put it into the freezer for 15-20 minutes or until solid. Cut into cubes to make it easier to incorporate into the batter later.
Preheat your oven to 400ºF. Line two baking sheets with parchment paper, or grease lightly.
In a small bowl, mix together applesauce, almond milk, and vanilla. Add grated ginger and combine. Set aside.
Whisk together flour, baking powder, sugar, and salt. Add chilled coconut oil. Using a pastry blender or two butter knives, cut the oil into the flour mixture until the texture becomes crumbly. Add wet mixture to dry, and stir gently to combine (in other words: don't over do it!).
Scoop batter onto baking sheet using a 1/4 cup measuring cup, leaving about an inch between the scones. Place pieces of peach on top of each scone, and press gently to make sure they're secure. Dust tops of scones lightly with sugar.
Bake for 18 minutes. Remove from the oven and allow to cool for five minutes. Move to a wire rack to cool completely - they will be crumbly, so I'd recommend using a spatula. You can also eat them while they are hot. Because yum.
Enjoy!
View as Google Doc
Something new: If you try my recipe and share it online, use the hashtag #bridgideats. It'll help me find your post, and it will also make me ridiculously happy! Tag me on Twitter, Instagram, or Facebook - where ever you share.
I can't wait to see your scones! (Okay. That sounds weird. But you get the idea. Um, right?) ;)
I'd love to know your favorite scone flavor. Strawberry scones? Black currant? Is there such a thing as a chocolate scone?! Jump in the comments & let me know which flavor of scone has your heart.
P.S. Learn how to make your own oat flour from rolled oats!
---