A week or so ago I asked my Instagram friends if they wanted a recipe for peach upside-down cake, so you can thank them for this one!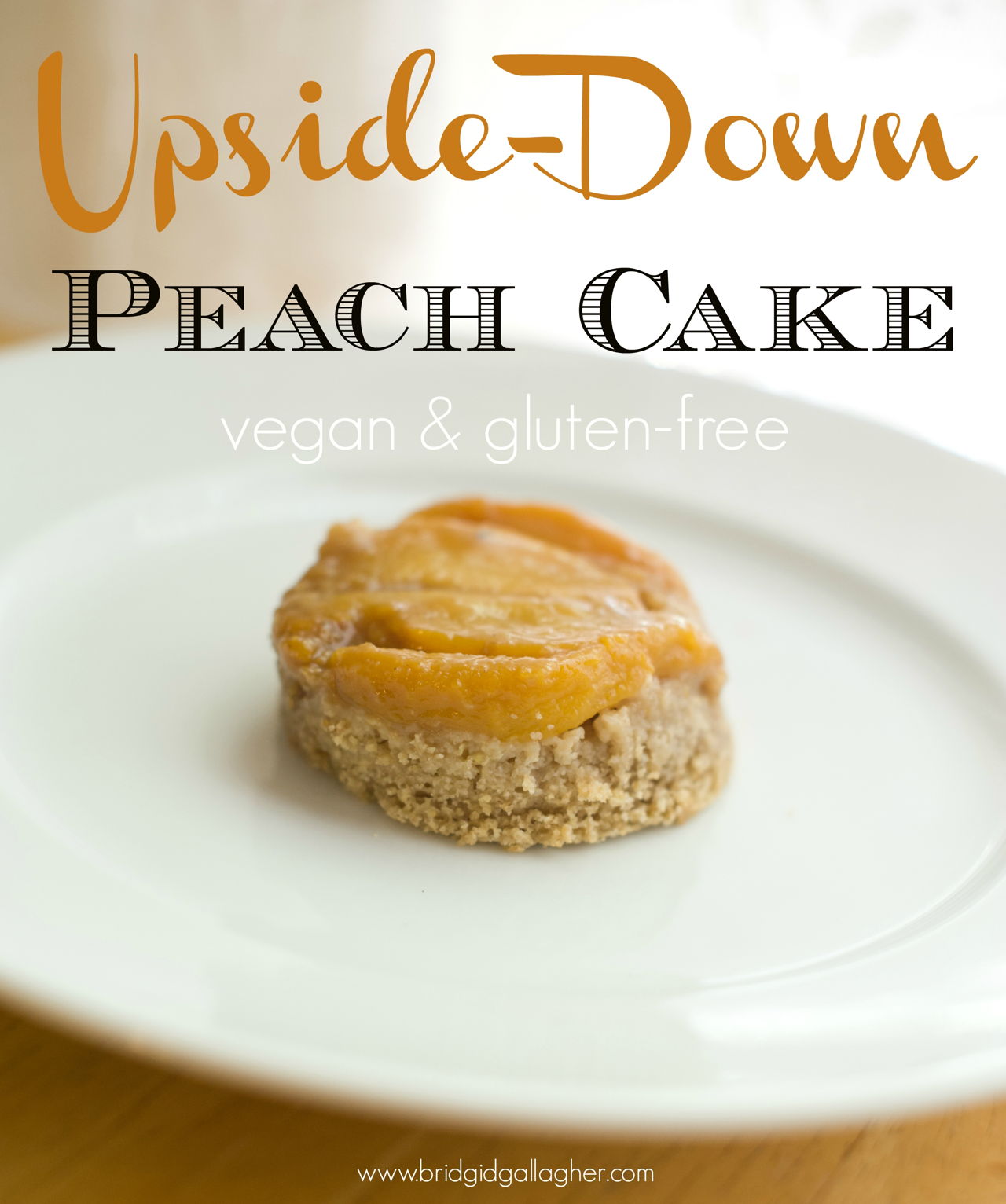 We've been buying Colorado peaches by the box (I love peach season!!), which I've used as an excuse to add peaches to everything. Peach scones, peach salsa, peaches on pancakes, and just … peaches. Fresh and oh-so juicy, straight out of the box. YUM.
Then I came across a recipe for peach upside-down cake from Alton Brown. Anyone else love his cooking show? One of my sisters introduced me years ago, but I just rediscovered it thanks to Netflix. I love that he breaks down the reasoning behind why recipes work. So nerdy (in the best way).
But back to the cake.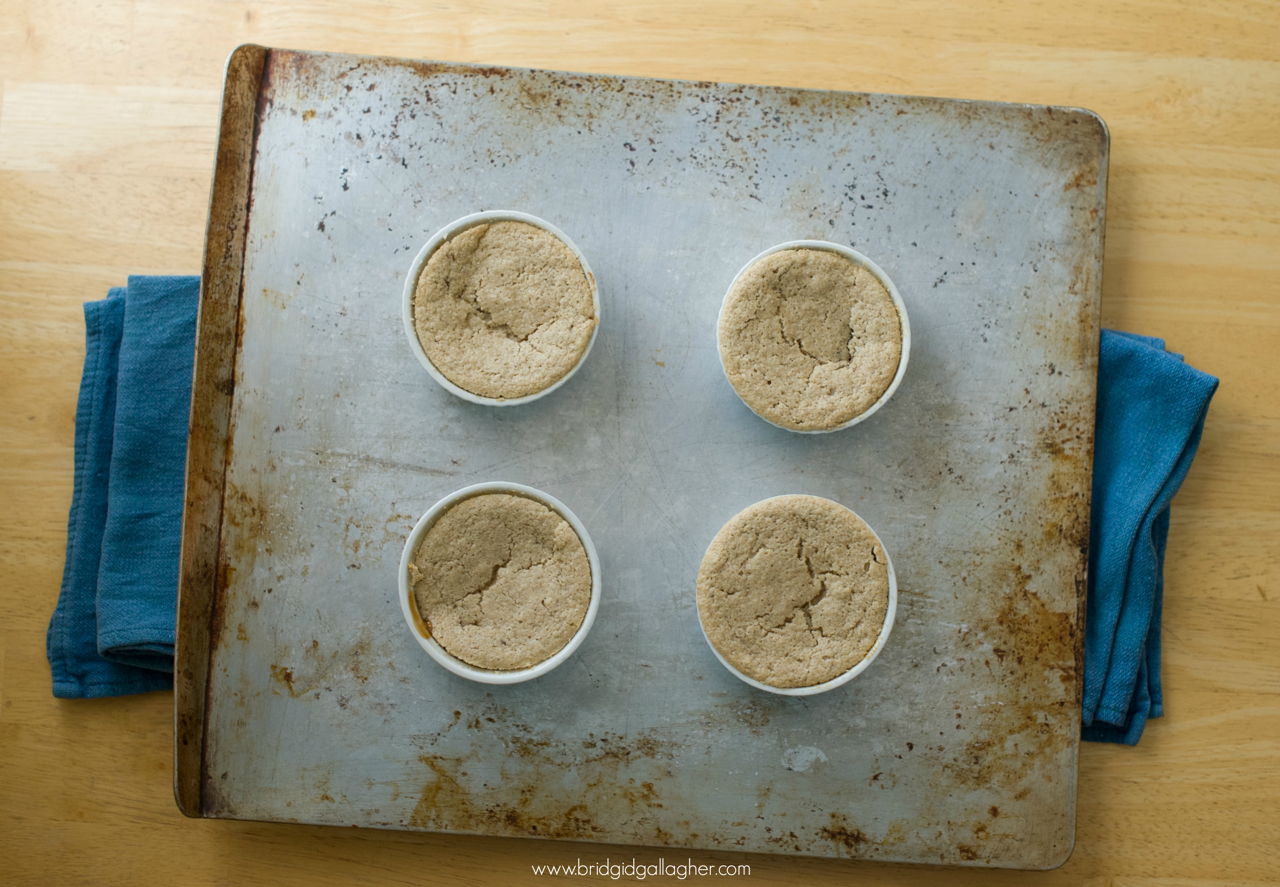 Alton shared a recipe for his peach upside-down cake, and I was thrilled by the idea of baking INDIVIDUAL-SIZED CAKES IN RAMEKINS.
(I'm sorry about the caps, but it feels necessary. The excitement I felt was definitely caps-worthy.)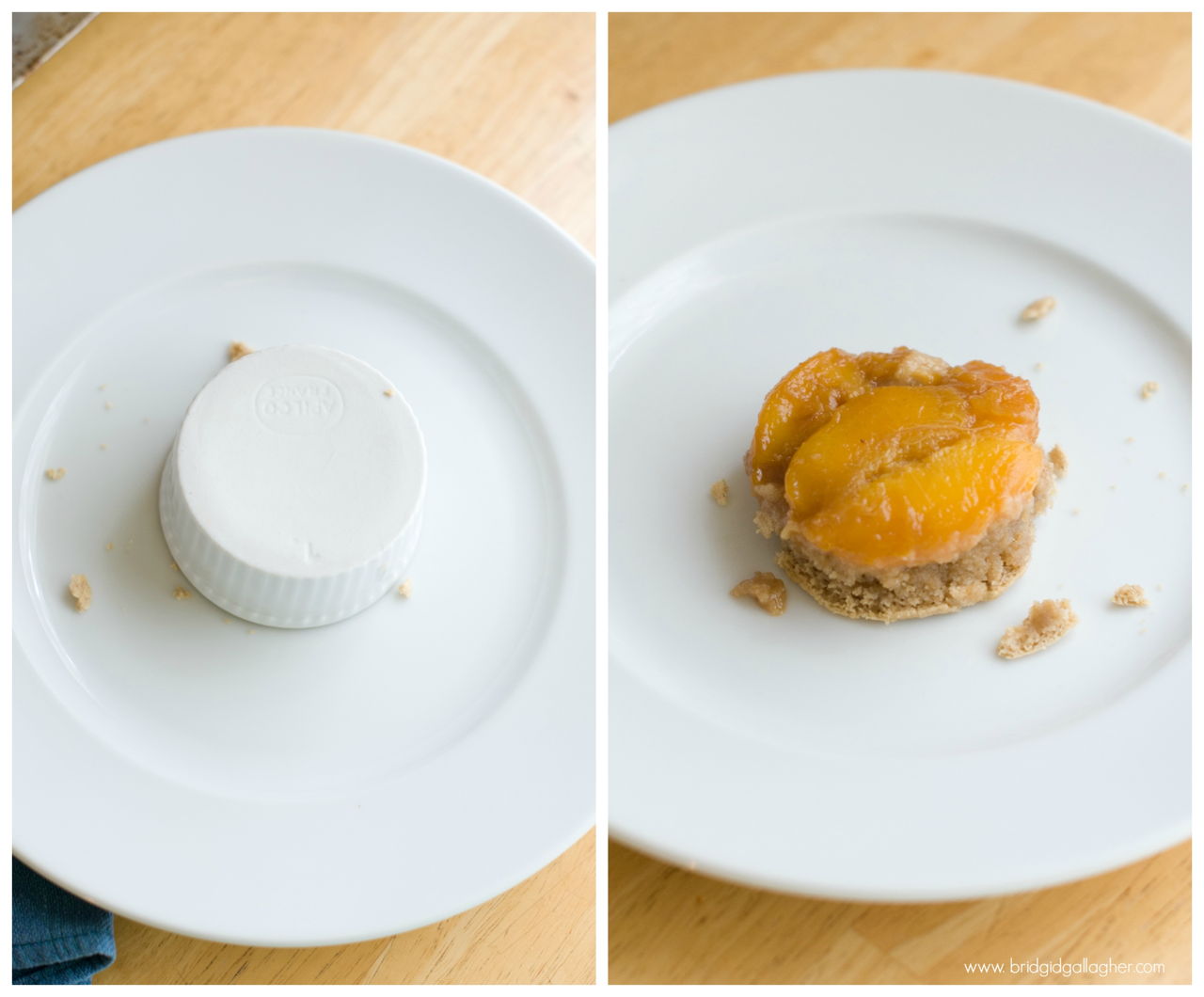 Ramekins - those hand-sized little baking dishes - have a special place in my baker's heart. We own a set of four - a hand-me-down gift - but until now I hadn't baked in them. I was waiting for the right recipe. [cue angels singing about peach cake]
There's just something about cake made in a tiny dish for one person. It's like a limited edition book cover or a pop up shop: ephemeral and delicious (because, cake!).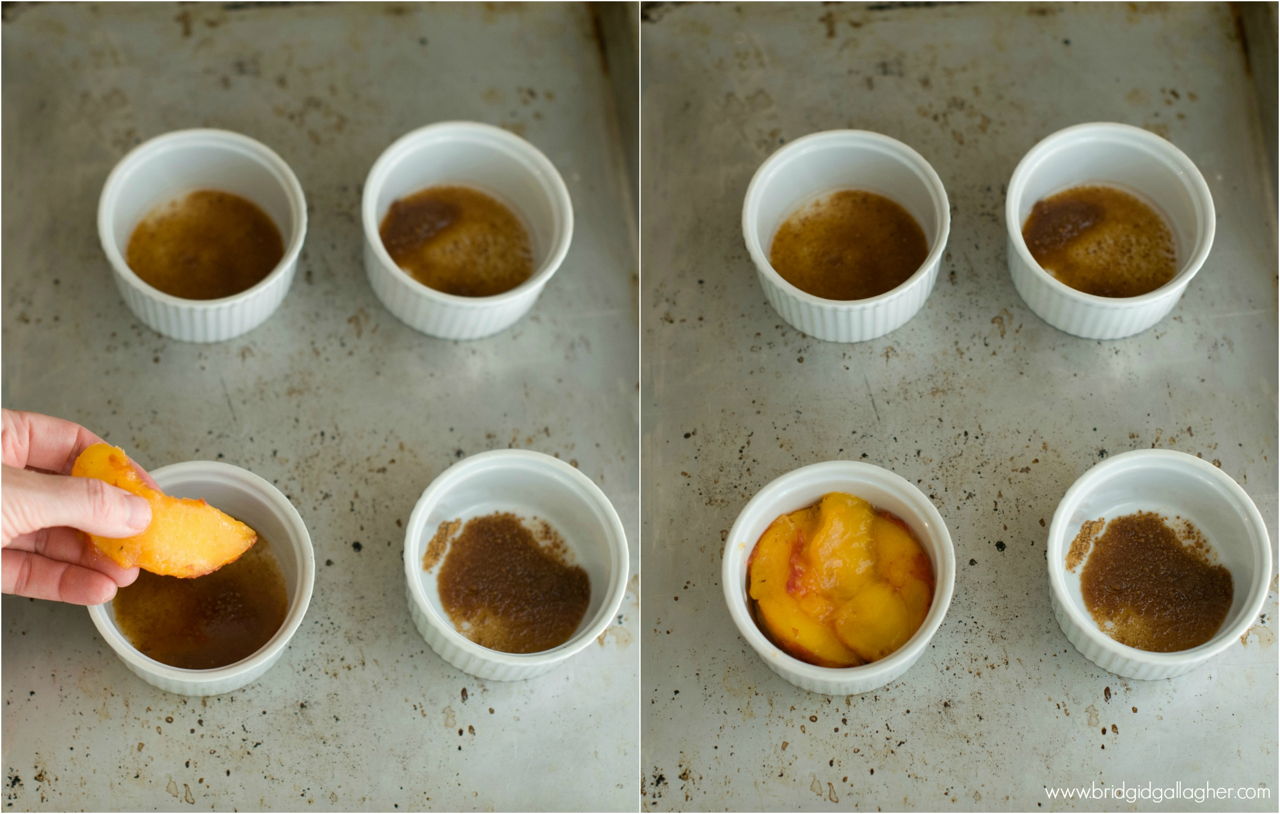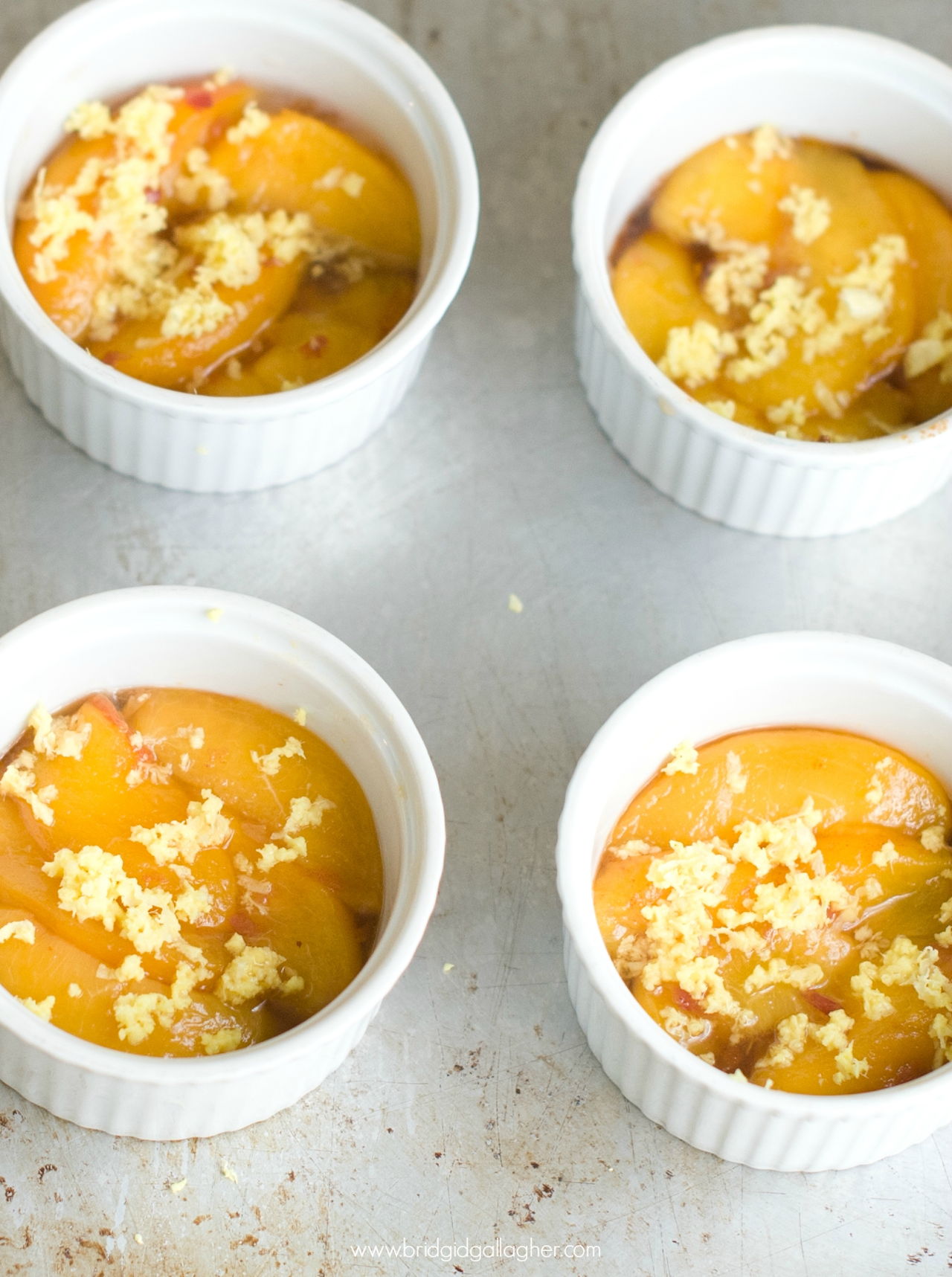 Alton's recipe looked like a good place to start, but there were a few things I wanted to play with. I wanted to use oat flour because it works best for me, and skip the butter. I also wanted to reduce the sweetener, and see if I could use curdled non-dairy milk instead of buttermilk.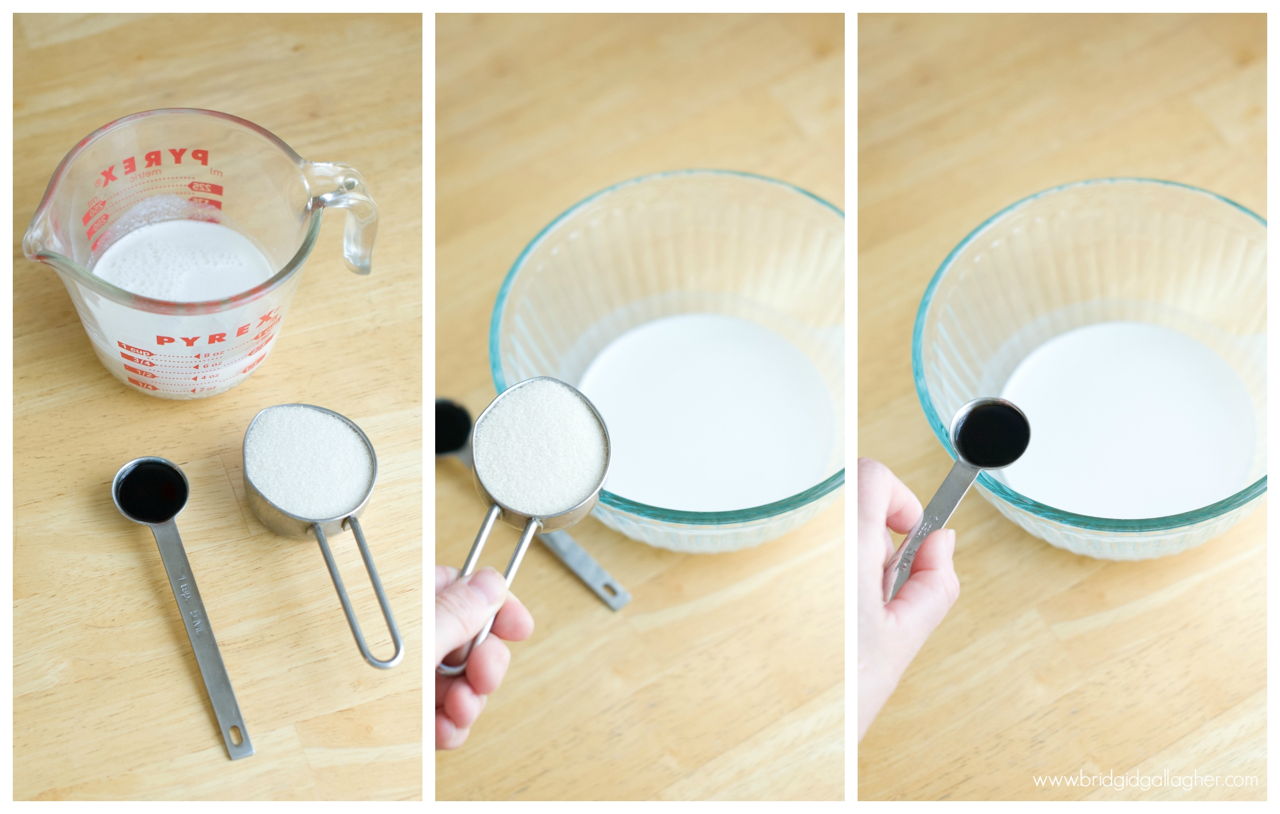 So I baked and ate (oh, how I suffer in the name of research) and I baked some more until I had the magic combination. I found that coconut oil worked not only as a substitute, but an improvement. Beyond adding that coconut oil richness, it caramelized the coconut palm sugar to perfection.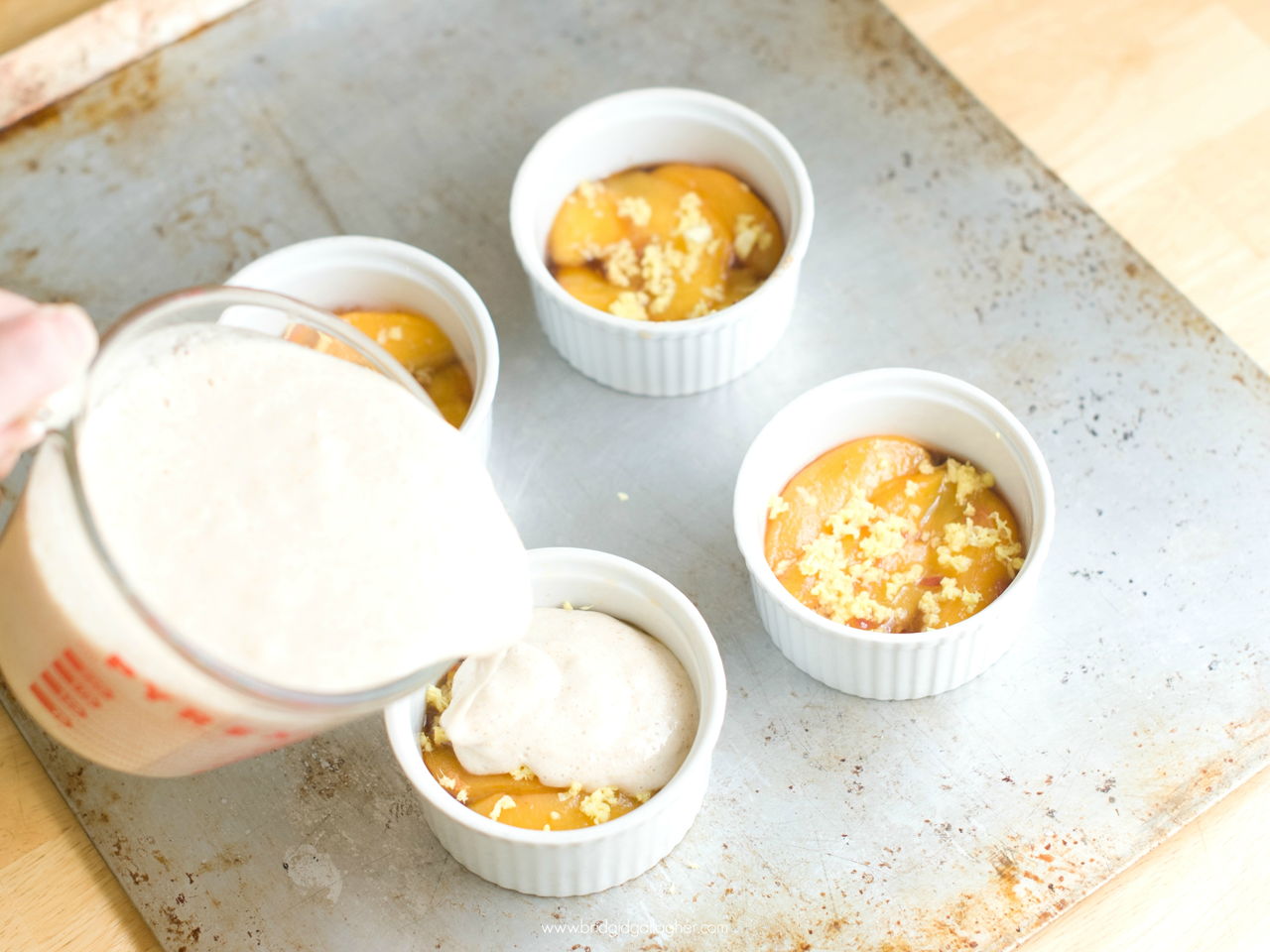 But the absolute best improvement is the fresh-grated ginger, which makes each cake explode with flavor.
Please don't skip the ginger. It. Is. Amazing.
All of my experimenting paid off. Not only is this cake gluten-free and vegan, it is also DELICIOUS. It tastes like summer.
Juicy peaches with rich coconut sugar. Dense oat-flour cake with just the right amount of sweetness. Pure YUM.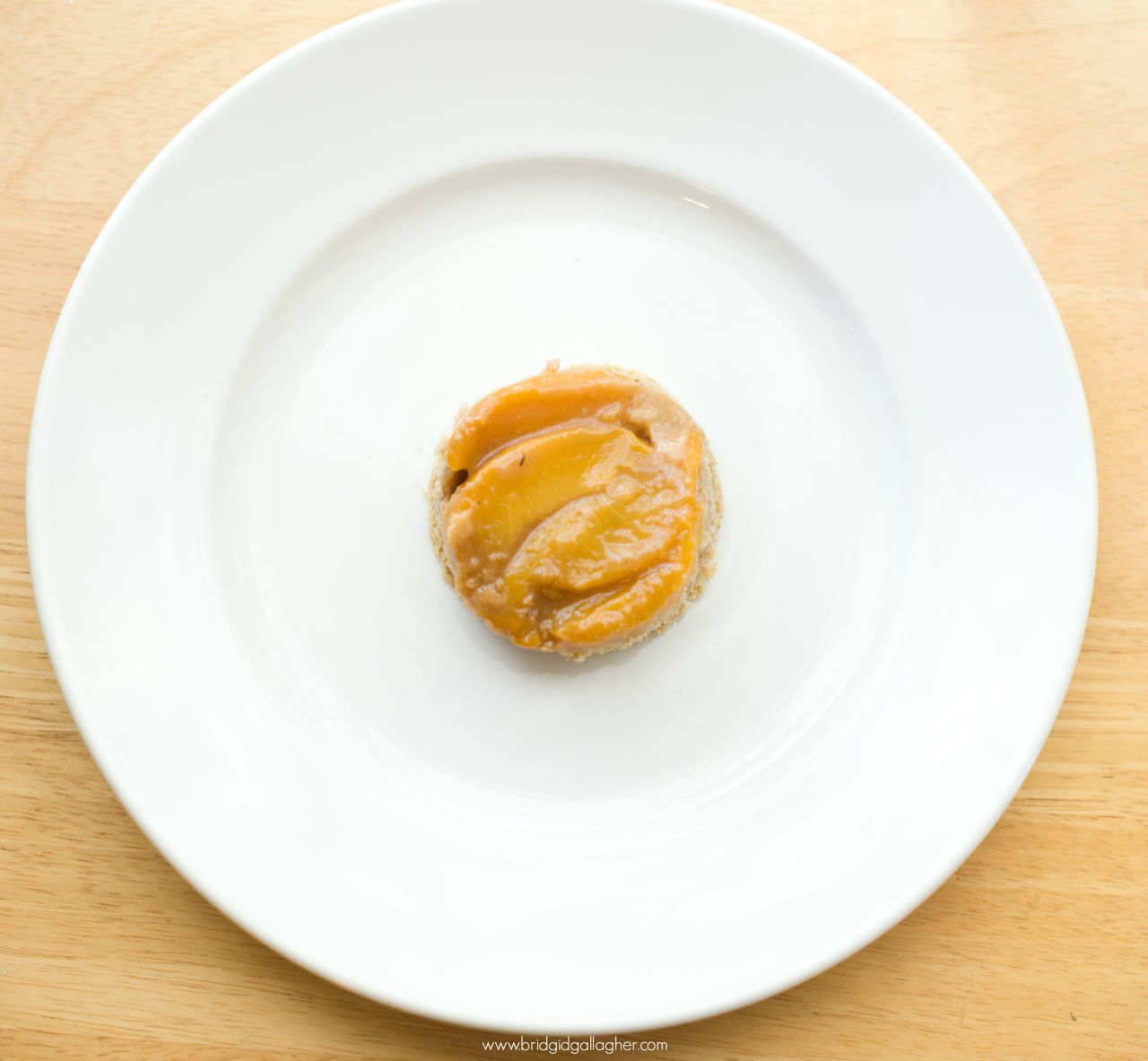 And then I put ice cream on it. [that sound you hear? that's me cackling]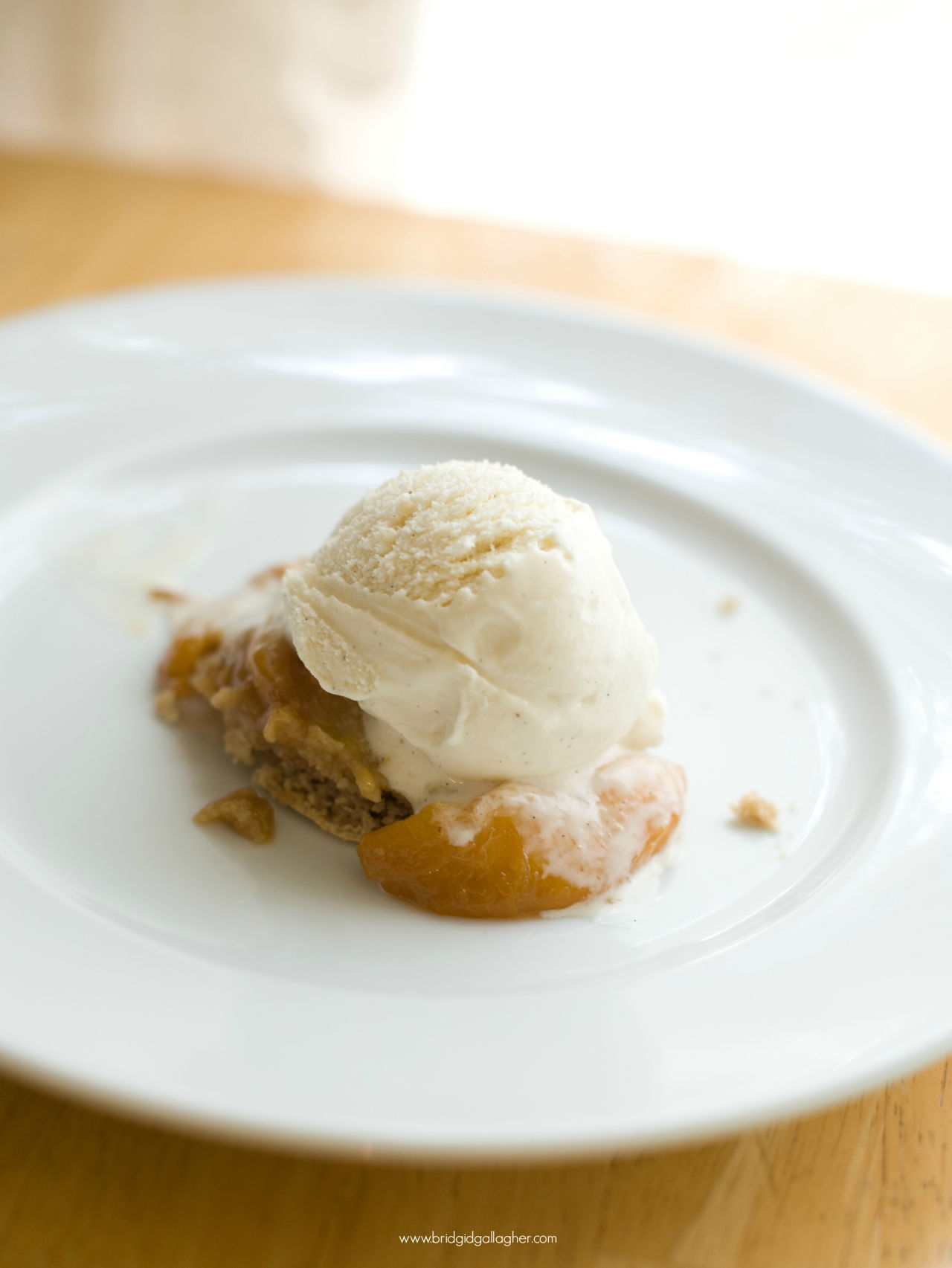 SWOOOOOON.
Vanilla ice cream (vegan if needed), coconut cream or whipped cream - anything creamy - will take this recipe from amazing to insane. (You've been warned.)
I hope you try it.
Makes 4 cakes (6-oz ramekins)
Ingredients
3 Tbsp coconut oil
4 tsp coconut palm sugar or brown sugar
2 peaches, peeled
1" fresh ginger, grated
2 1/2 ounces oat flour
1 tsp baking powder
1/8 tsp baking soda
1/8 tsp salt
1/2 cup almond milk (or non-dairy milk of choice)
1/2 tsp apple cider vinegar or lemon juice
1/4 cup granulated sugar
1 tsp vanilla extract
Directions
Preheat your oven to 350ºF.
Prepare the peaches: First, peel them. Put each peach in boiling water for 20 seconds, then move to an ice bath for 20 seconds. The peel will rub off. Next, cut the peaches in half and remove the pit. Slice each half into even pieces (about 6). Set aside.
Place ramekins on a baking sheet. Divide 2 Tbsp of coconut oil between the four ramekins (about 1 1/2 tsp per ramekin). Sprinkle 1 tsp of coconut palm sugar (or brown sugar) in each ramekin, coating the bottom of each dish. Place the peach slices on top of the sugar (each ramekin will get about a half peach). Grate ginger onto the peaches, dividing evenly among the ramekins.
Prepare vegan buttermilk (curdled non-dairy milk) by mixing non-dairy milk with apple cider vinegar or lemon juice. Set aside for 1-2 minutes, or until milk is curdled. Once curdled, add vanilla extract and granulated sugar. Mix well, then add remaining 1 Tbsp of coconut oil.
In a separate bowl, whisk together oat flour, baking powder, baking soda, and salt. Add wet mixture to dry and stir only until combined (you don't want to over mix - lumps are okay).
Pour batter over the peaches, dividing evenly among the four ramekins.
Bake for 20 minutes. Remove from the oven and allow to cool for five minutes. Run a knife along the edge of each ramekin, then overturn each cake onto a plate. It will be hot, so use a towel or oven mitt. Serve warm, and add coconut cream, whipped cream, or your favorite vanilla ice cream for complete deliciousness.
Enjoy!
View as Google Doc
If you try this recipe (which would make my day), tell me about it! Tag me on Twitter, Facebook, or Instagram, and include my shiny new hashtag: #bridgideats. I would love, love, love to see your photos and hear what you think!
Now it's your turn: Have you been baking with seasonal produce? What's in season where you live?
P.S. See all of my recipes.
---