Yesterday, I announced the Build a Better Blog challenge, a week-long challenge to help you create a plan for your blog. To help you rock the challenge, you'll get a free workbook, access to a private online community, a free online workshop. Let's get ready for a great year of blogging in 2016!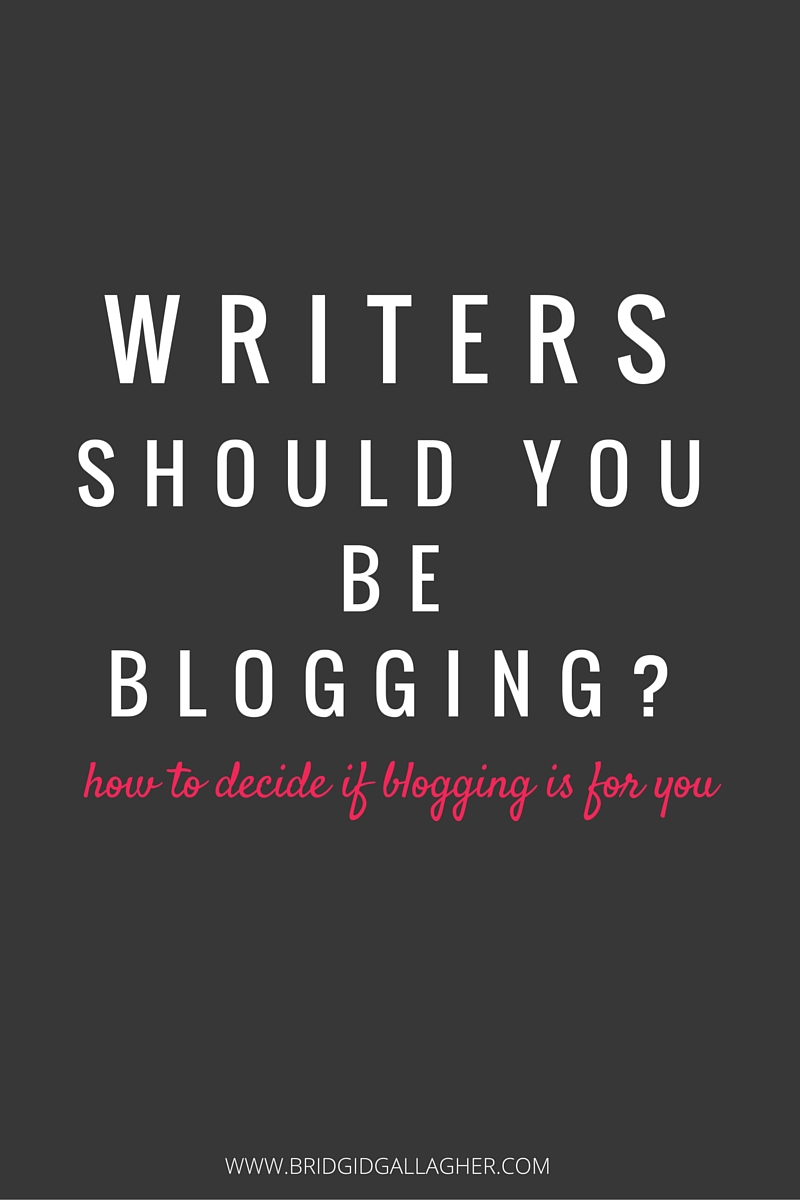 Update September, 2017: The Build a Better Blog Challenge no longer available. Join my mailing list to hear about future courses & challenges.
Before we dive into working on our blog content, there's one important question I want to discuss.
Do I need a blog?
As writers, there are so many things we think we should be doing. On top of writing novels—and let's agree, that alone is HARD—we should be tweeting, sharing on Facebook, making a website… The list goes on.
But do we really need to do all of that?
My short answer: No.
My feelings about not being everywhere on social media aside, let's focus on blogging.
No, writers do not need to blog.
I'm not the only one who feels this way. Check out these posts by literary agent-turned author and freelance editor Mary Kole and author L.L. Barkat:
If you are just thinking of blogging because everyone else does it or you heard that agents won't consider you unless you have a blog, don't.
I encourage new bloggers, just the way I always have. It's an excellent way to find expression, discipline, and experience. But if writers already have experience, and they are authors trying to promote themselves and their work, I tell them to steer clear.
Here's the thing: Without knowing what your goal is with any type of social media, it can be difficult, if not impossible, to figure out what you should be doing. Because although blogging might not be something you have to do, but it may be something you choose to do.
So how do you figure out if blogging is for you?
Let's dive into the reasons for and against blogging.
Reasons writers should blog
Blogging can help you connect with other writers online.
Although I've been writing fiction for over six years, I only started blogging recently. Since starting my blog, I have met countless writers. Some have become my critique partners and beta readers, others have helped cheer me on while I pursue my goals—and those connections are priceless. It's not magic, you do have to work to connect and engage with other bloggers, but blogging can certainly help you build relationships.
Blogging can help you improve your writing skills.
Writing and editing blog posts gives you an opportunity to improve your writing skills. Writing for your blog is not the same as writing fiction, but it can be a great way to help you practice your craft.
Blogging can help increase site traffic.
By blogging, you create opportunities to draw traffic to your website. Again, it's not magic; you have to learn how to blog in a way that encourages traffic. But once you learn those practices, you can gain exposure you wouldn't see without adding fresh content to your site. Especially for those who are considering self-publishing, this traffic may help you gain exposure for your books.
Reasons writers shouldn't blog
Blogging is time consuming.
There's no way around this. Although you can streamline your process and make certain aspects of blogging easier, it requires time. Especially if you want to create the kind of blog people want to visit, the kind of site that makes them want to come back. If you're already pressed for time, then blogging may not be for you.
Blogging (probably) won't help you write books, land an agent, or get a book deal.
Here it is. The bottom line. 1) Blogging will not help you write books. In fact, time blogging means less time writing books. 2) Although literary agents might visit your website, will they not take you on as a client if you don't have a blog? I don't think so (Mary Kole agrees). 3) Unless you get 30k+ page views a day (even then), blogging is unlikely to help you get a book deal.
P.S. I would love it if you proved me wrong. ;)
---
What's right for you?
Now that you've read reasons on both sides of the argument, I hope you're closer to deciding if blogging is for you.
If you're still on the fence, I encourage you to take a moment to think about why you want to blog:
Is it to impress an agent? Get a book deal? Those might not be good enough reasons to blog.

Do you want to make new writer friends? Work on your writing skills? Then blogging might be for you.
For me, I prioritize writing books over blogging, but I continue to blog because I love connecting with people through my website. Blogging helps me share what I learn and gives me a space to talk about things I'm passionate about (books! food!). Along the way, it has led to some amazing friendships.
---
I'd love to hear your thoughts. Do you have a blog, or are you considering creating one? Why or why don't you think writers should blog?
---