These Tofu- and Walnut-Stuffed Mushrooms are for the tofu haters. Seriously. Each time I've made them for a gathering, I've had people tell me that it's the first time they've actually enjoyed a tofu dish. So if you're not a fan of tofu, or if you'd like to cook for someone who thinks tofu tastes like cardboard, then give this dish a try.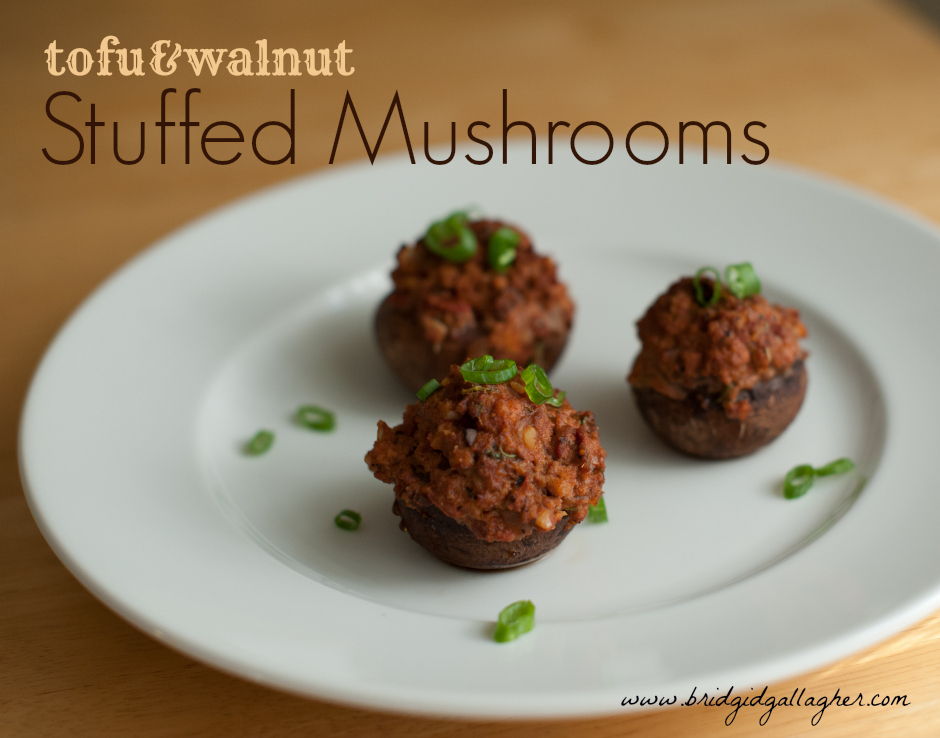 I like to save this dish for special occasions, in part because I try to keep soy products to a minimum in my diet. Soy is one of the most genetically modified foods, which I dislike both for the negative impact on our environment and the questionable impact on our bodies. When buying tofu, I look for organic tofu made with sprouted soy beans, and I highly recommend that you do the same (added bonus: your digestive system will thank you).
This recipe is adapted from Chef Nadine Barner's recipe on Epicurious.com. I've since bumped up the flavor by tweaking certain amounts, but the original recipe is worth a look, especially if you are watching your sodium levels.
Chef Nadine Barner, who kept Gwyneth Paltrow looking fab with a macrobiotic regimen (a diet of mostly grains and vegetables), has served these tasty morsels at private parties hosted by the actress. Brain-boosting omega-3 fatty acids from the walnuts makes this a smart starter. The calcium and protein combo found in tofu works to bolster bone density (no wonder Paltrow stands so tall in Hollywood), and the mushrooms' potassium helps protect against high blood pressure. From Epicurious.com
The first step involves preparing the tofu. Select extra firm tofu, and freeze then defrost the tofu before you are ready to start cooking. I often pop tofu in the freezer as soon as I get home from the store, allow it to defrost overnight, then place it on the counter (or in the refrigerator) in the morning. It may require up to 6-8 hours to defrost, so keep that in mind.
After your tofu is defrosted, drain as much water as you can, then place the tofu between two plates. Weight the top plate if necessary (cookbooks work great for this). After 15 to 30 minutes, drain the water.
The next step is crumbling your tofu. To do this, take a fork and squish the tofu until it breaks apart. Check out my photos for the result you want.
It's easy to crumble tofu, and it will give your dish a unique texture (one tofu-haters will have a hard time hating).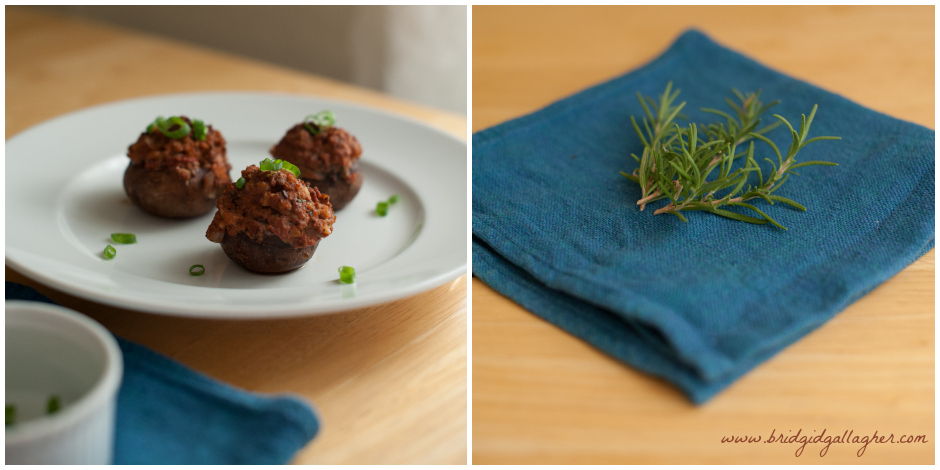 Portabella mushrooms make for fantastic main dish-sized stuffed mushrooms, and crimini mushroom caps are perfect for finger-foods. Serve your stuffed mushrooms with a dark leafy green salad and squash soup for a filling and complete fall meal. Enjoy!
Adapted from Nadine Barner's recipe on Epicurious.com
Ingredients
1 medium onion, diced
15-20 large crimini mushrooms or 10 portabella mushroom caps, cleaned, stems removed and diced
2 Tbsp avocado (or olive) oil
3 garlic cloves
1 Tbsp Herbs de Provence or 1 tsp each fresh rosemary and oregano, chopped
1 14-ounce packages of extra firm tofu, frozen and defrosted, drained, crumbled
1 15-ounce can diced tomatoes or 2 fresh tomatoes, diced
1 cup raw walnuts, ground
2 Tbsp miso paste
2 Tbsp balsamic vinegar
2 Tbsp tomato paste
green onions, diced (optional)
Directions
MAKE AHEAD: Be sure to freeze and defrost your tofu before you're ready to start cooking. After you remove the tofu from the freezer, press it between two plates (add a book or two to weight the top plate if you like) for 15-30 minutes, then drain to remove excess water.
Preheat oven to 350°F.
Sautée diced onion in oil for 5 to 10 minutes, until translucent, then add diced mushroom stems and sautée until soft. Add herbs and garlic, sautée a few minutes more. Next add crumbled tofu and tomatoes, and mix well. Heat until mostly dry. Add ground walnuts, miso, balsamic vinegar, and tomato paste and mix well.
Line a rimmed baking sheet or baking dish with parchament paper. Scoop mixture into mushroom caps, pressing firmly to pack, then place on lined baking sheet or baking dish.
Bake 20 minutes.
Remove from oven, sprinkle with diced green onion. For those who eat dairy, a little crumbled feta on top, goat's milk if you can get it, is delicious.
How about you, do you have a recipe capable of wooing haters? Whether it's gluten-free, dairy-free, vegan, or vegetarian … (or?), I'd love to hear it!
P.S. If you're looking for some spooky book recommendations for October, I shared a few of my favorites for this month's YA Buccaneers reading challenge. Check it out here!
---