Since it's the season for eating cookies and other sugary treats, I thought you might be interested in balancing out the sweets with some dark leafy greens.
Meet my version of the Emerald City Salad: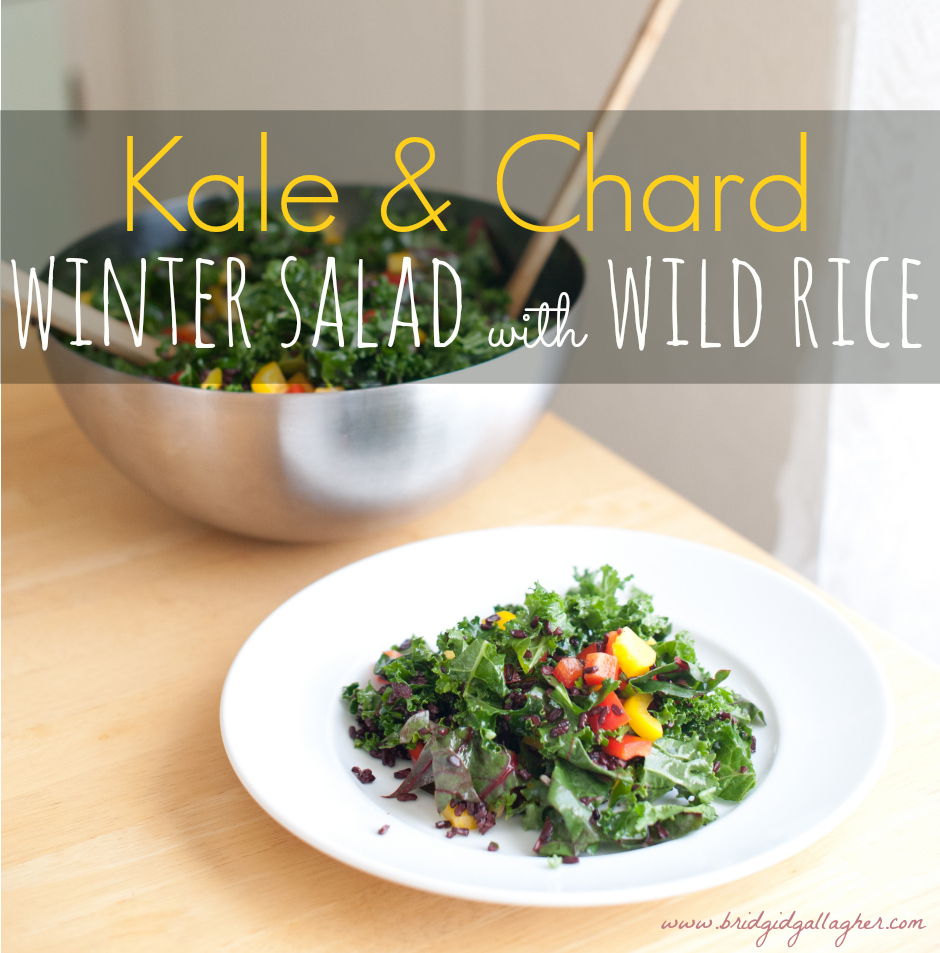 When I lived in Seattle, PCC - a food co-op with multiple locations - sold the Emerald City Salad in their deli. I think I first tried it at one of my step-mother-in-law's Hanukkah parties, and it was love at first crispy, tangy, leafy bite. After that first taste, I tried to pick up the salad at PCC when I could. Later, when I realized how easy it was to make and how much money I could save, I started making it myself. I've since tailored the recipe to suit my tastes, but the basics are the same: lots of dark leafy greens, a lemony dressing, and wild rice.
It's become our standby salad recipe during the winter. Every time I think I'm over salads until spring returns the world to a sane temperature, I make this salad and realize I don't have to wait months to enjoy raw greens again. Tossing the greens in the lemon and olive oil softens them, making them easier to digest and far tastier. The bite of parsley and the juicy sweet peppers add little bursts of flavor. Have I mentioned how much I love this salad? ;)
Another thing I love is that it travels really well. The greens don't get all wilty, which is great if you want to take a container of it to work or school, or to take it with you while traveling.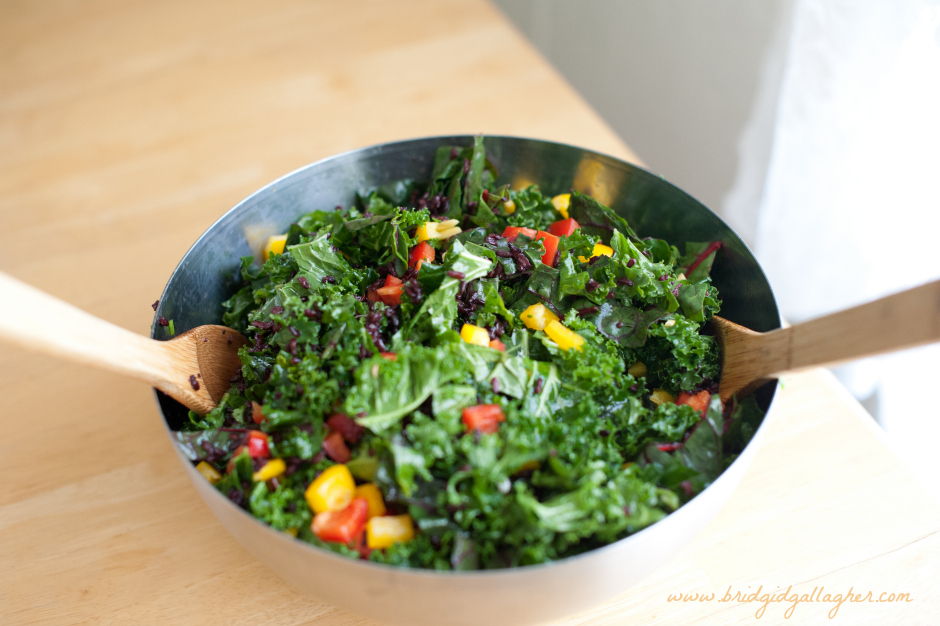 Adapted from PCC's Emerald City Salad Recipe
Ingredients
1 bunch kale (any variety)
1 bunch chard
1 bunch parsley
2 sweet peppers (red, yellow, or orange)
1 1/2 cup wild rice, uncooked
1/2 cup lemon juice
1/2 cup olive oil
1 clove garlic, minced
1 tsp sea salt
ground black peper, to taste
Directions
Cook wild rice according to instructions (different varieties have different water ratios and cook times).
Allow rice to cool.
Whisk together olive oil, lemon juice, garlic, salt, and pepper. Mix with cooled rice. Set aside.
Rinse greens, then drain. Chop parsley and peppers. Remove kale and chard stems, chiffonade (slice into ribbons) leafy bits. Mix together choppped kale, chard, peppers, and parsley in a large bowl.
Just before serving, add wild rice and dressing mixture to mixed greens. Toss, then serve.
Store in airtight containers in the refrigerator. It will keep for about a week.
I've shared this salad with many non-kale people, and it always gets rave reviews. Give it a try, and let me know what you think!
P.S. Have you tried my soft vegan ginger cookies?
P.P.S. This salad goes really well with my tofu- and walnut-stuffed mushrooms!
---