Welcome to this month's State of the Blog, where I share my goals for this blog, what I'm doing to reach them, and what's working (or not working).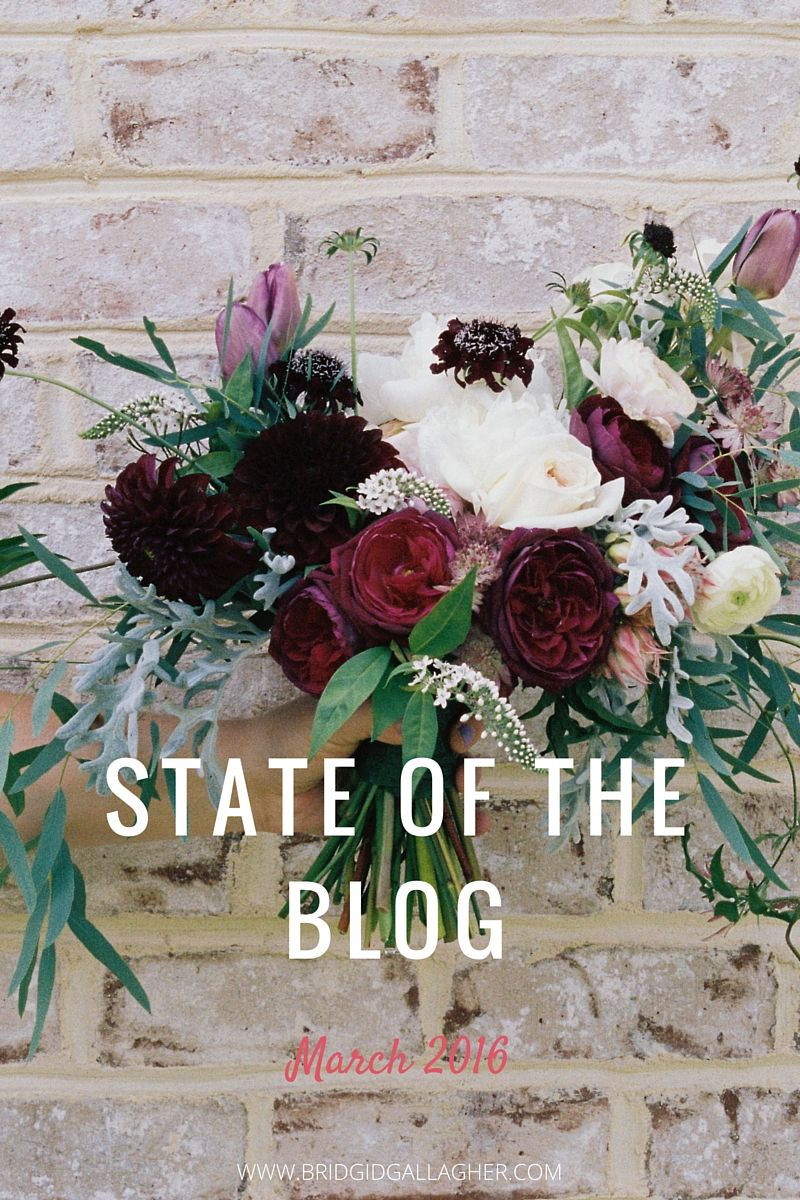 This post includes affiliate links (marked with an asterisk). When you use the link to make a purchase, I make a small commission at no extra cost to you. I will only share affiliate links if I have used and recommend the product or service. If you have any questions, please contact me. Thanks for your support!
New to my blog? Start here: State of the Blog for January 2016, State of the Blog for February 2016.
February 2016 Numbers
Keep in mind that traffic and social media numbers aren't everything — I'd rather ten writer friends over 1,000 stop-an-go site visitors, wouldn't you? — but numbers can help you get big picture insights and help you make changes.
Site Traffic and Top Content
Here's a comparison of my site traffic February 1st through 29th, 2016 (top) and January 1st through 31st, 2016 (bottom).
Psst: Learn how to find these stats in Google Analytics: I walk through the process step-by-step in the Build a Better Blog Challenge.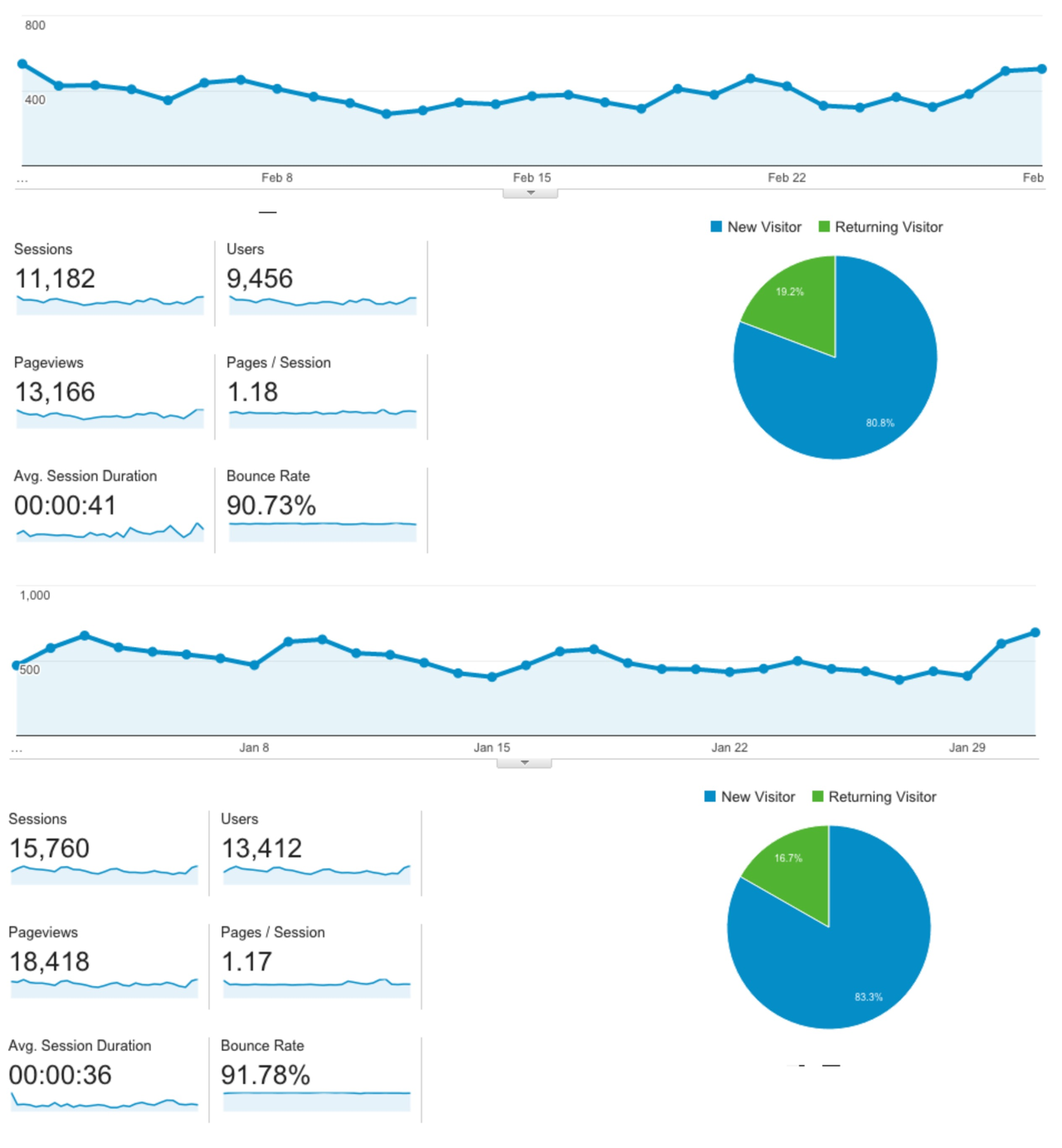 And a comparison of my top content February 1st through 29th, 2016 (left) and January 1st through 31st, 2016 (right).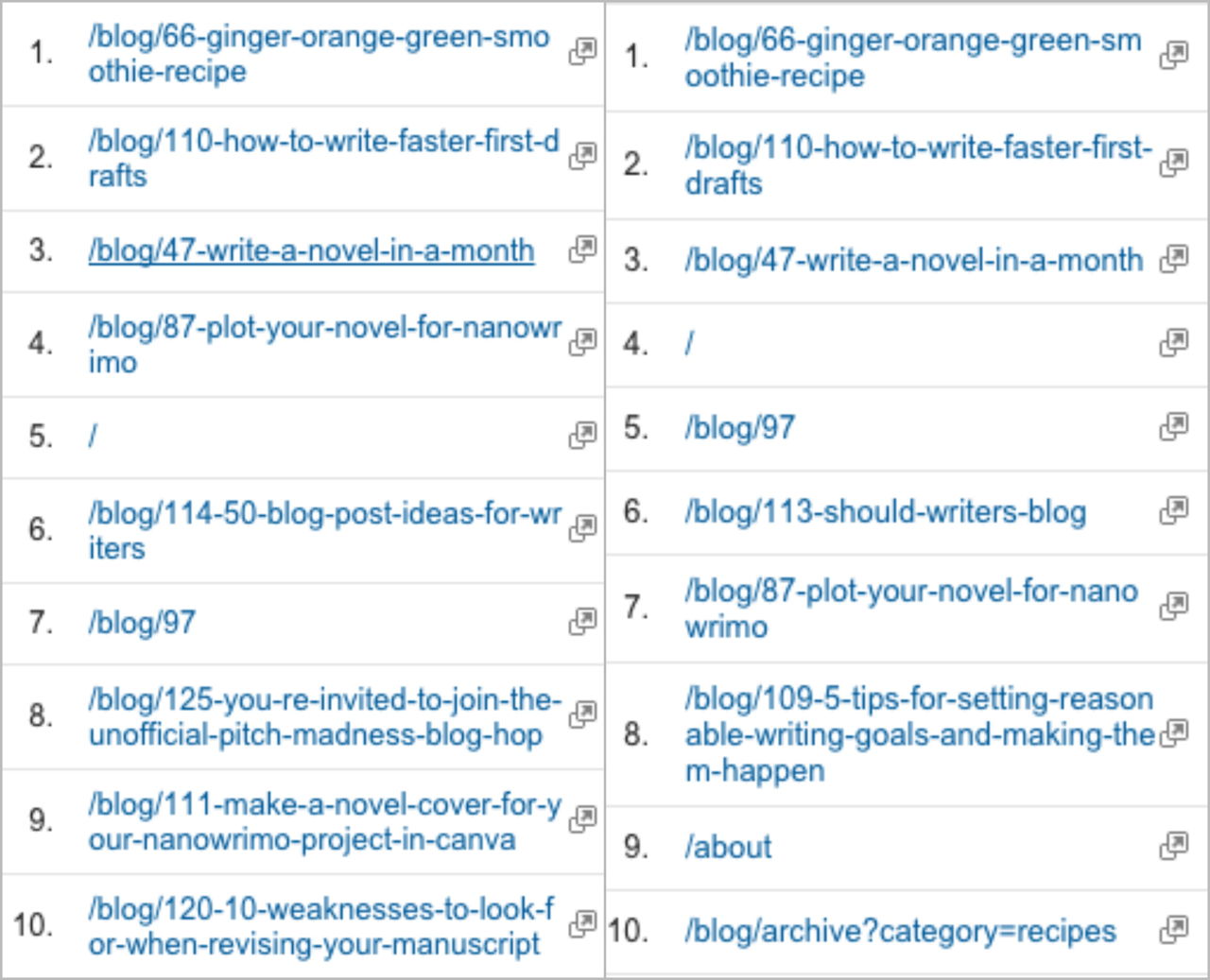 What's important:
Although my traffic dropped (not surprising after last month's green smoothie surge), my bounce rate decreased and my percentage of returning visitors increased. What that means: People are coming back to my blog, and they are staying longer. Yesss! This is very helpful to me, because it means readers are getting value out of my content.
Also of note: My writing-related posts are still doing better than the majority of my recipe and food-related posts. Which means my transition from food(ish) blog to writing blog is going well.
Social Media Referrals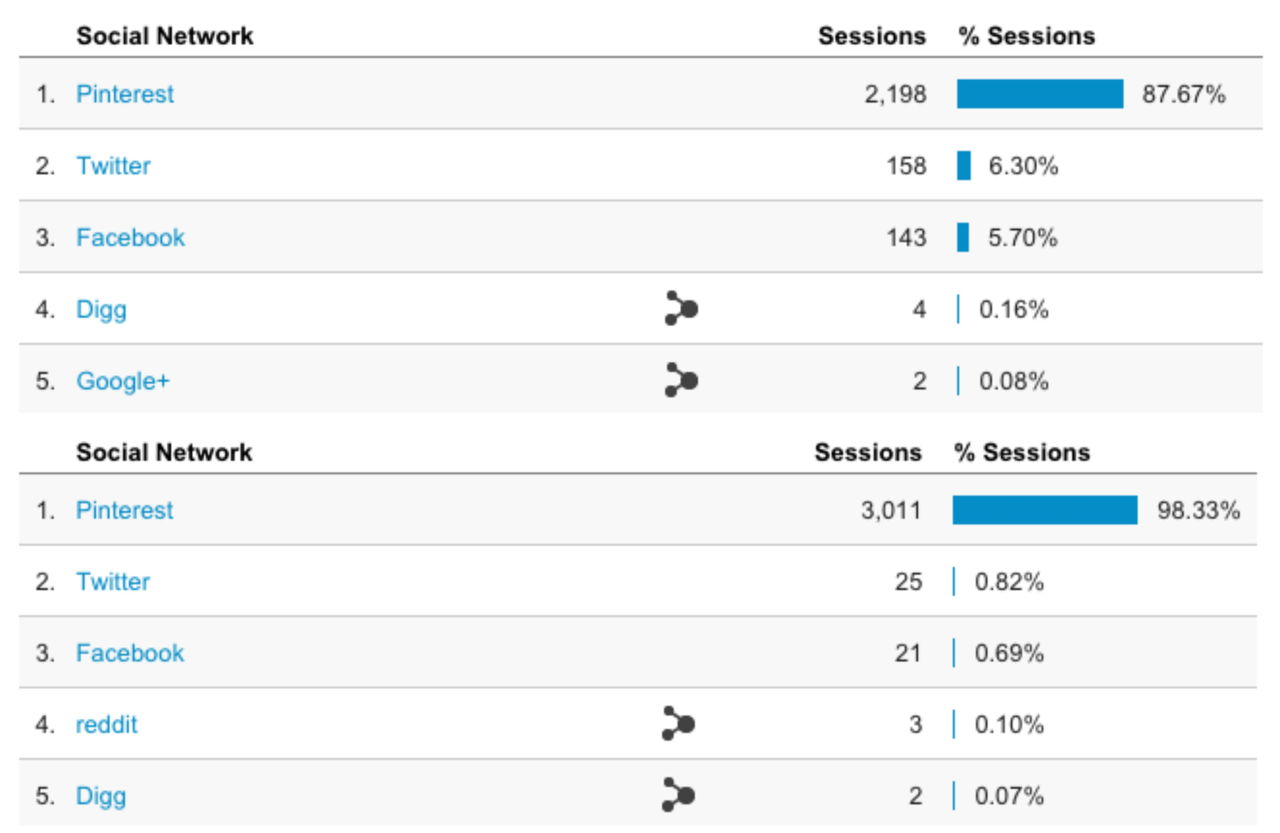 Pinterest is my number one social media network referral (I talk more about how to use it strategically in my free Build a Better Blog Challenge, but this month I was more active on Twitter and saw a jump in traffic from Twitter. More on that in a moment.
Pinterest
As I mentioned last month, Pinterest is a huge traffic driver for me. I have blog posts about how to use Pinterest more strategically in the works, but I'll also be sharing a free online workshop to show you how I use Pinterest and BoardBooster together. There will be blog posts announcing the workshop, and you can sign up here to be the first to hear about it!
Social Media Growth
One of my goals last month was to get more strategic about how I use Twitter, and it definitely paid off. That, and I entered a writing contest called Pitch Madness. Most of the interaction is on Twitter, which helped me connect with a number of new followers.
Mailing List Growth
Guys, my email list is exploding. Like, fairy dust and rainbows exploding. I am so, so excited about the number of people who are opting in to join my list! Not only is the number growing, but I'm also seeing new subscribers who want to interact with me — asking questions and reaching out to say hello. My email friends are the best!
How I did on my January goals
1. Experiment with Twitter
Excellent!
My Twitter following increased quite a bit, but more importantly I'm connecting and interacting with more and more writers. Four things that worked really well:
Scheduling tweets in advance
Sharing more writing-related information (and mentioning the source)
Joining a Twitter chat
Engaging and interacting with people
I'll have more about Twitter strategy soon, but I do want to point out that much of my traffic came from being active in the #PitchMadness conversations on Twitter. It's been an excellent way to make new writer friends!
2. Work on new email course for writers and authors
Excellent!
I don't want to spoil the awesomeness … so for now just know that this course is going to be packed full of AMAZING information. If you're a writer who wants to learn how to create and grow your mailing list, then you'll love it. :) Make sure you're on my email list so that you hear about it!
3. Finish design tasks
#Fail
I didn't make progress on my design tasks last month. My other writing and blogging projects took priority, and I'm not bothered in the slightest. Design can wait, content comes first.
Goals for March 2016
1. Update my Build a Better Blog e-course
I have a number of new lessons to add, and I want to get them added to the course site this month.
2. Make progress on my new email course for writers and authors
There's a lot of content to write and tutorials to record - I'll be busy!
3. Teach Pinterest strategy workshop
This will be such an awesome workshop! A number of you have asked me about how I use Pinterest, and I can't wait to show you exactly how I've grown my following and made Pinterest my biggest source of traffic from a social media network. Get excited. :)
---
Thank you for reading! If there's anything I mentioned that you would like to learn about, please jump in the comments to let me know.
Now I would love to hear from you:
Do you have plans for your blog this month? Tell me about it in the comments, and be sure to link to your blog so I can take a look! :)
---